Solid vertical cylinder rotating around an external axis.
Literal definition : Full vertical cylinder rotating about an axis parallel to the axis of the cylinder itself.
Suitable for one or more masses circular filled arranged in a ring of a diameter.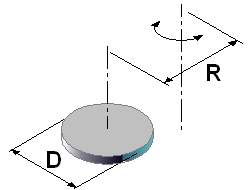 Distance from the rotating axis
R
mm

Result
Moment of mass inertia
J
kgm2
Want to help us improve ?
Notices