Absorption of a pump for fluid.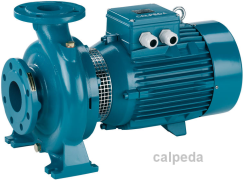 The required power by a fluid pump depends on a lot of parameters, like as:
Density of the fluid you have to move.
Required fluid flow rate.
Total hydraulic head.
Global efficiency (hydraulic, volumetric, mechanic).
Between the required parameters, the most difficult to estimate are the efficiency, they depends on the sequent factors:
Superficial roughness of the components passed by fluid.
Construction tolerances.
Shape of the snail and of the impeller.
Mechanic friction (endurance, bearings etc...)..
Using this app, selecting correctly the kind of the pump, you obtain results that are sufficiently trustworthy, useful to estimate the absorbed current, consumed energy or the cost of the plant.
Data input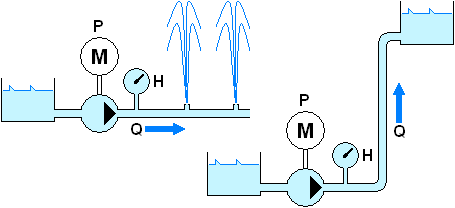 Fluid characteristics.
Selection of the kind of fluid
Density of fluid at 20 °C

kg/dm3
Plant data.
Required fluid pressure .. H
Results.

Notes.
Since the real efficiency values are not the same for every manufacturers and for every dimensions of the same kind of pump, here there are averaged values.
Low quality pump, with impeller and snail with too large construction tolerances or bad built could have efficiency also really smaller respect as given by the app.
Want to help us improve ?
Notices
Applications about motors.
Motor parameters calculation.
From three-phase to mono-phase motor.
Absorption of a fan.
Absorption of a pump.