Temperature of a conductor in free air subjected to a current.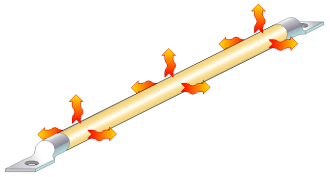 When a conductor carries electricity a quite part of the energy is converted to heat due to the Joule effect, the heat is lost in the surrounding by convenction and radiation.
The steady-state temperature depends on a lot of factors such as the conductor resistance, current intensity, exposed surface, ambient temperature and coloring.
The conductor could be a simple electrical cable not insulated, a power cable with rectangular section but also the heating element of a resistor.
Data input
Selection of conductor material
Material resistivity

ohm/m mm2
Heat transfer coefficient
W/m2 K
Conductor cross-section
mm2
Optional parameter (not indispensable):
Inductive reactance (XL)
ohm
Results.
Total conductor resistance
ohm

Notes.
Due to the inductive reactance, when the current is not direct but alternating the resistance increases.
In this case reactance is not considered because too variable, depending on dimensions, path and on what there is nearby of the conductor itself.
For instance, a conductor with these characteristics:
Material = copper
Section = 2.5 mm2
Length = 10 m
Path = straight line
Disposal = near to other cables (5 - 10 mm)
It has the following characteristics:
Resistance = 0.0704 ohm
Inductive reactance = 0.0019 ohm (almost)
Total resistance = 0.0723 ohm
Want to help us improve ?
Notices