Power factor correction (PFC) of electrical systems monophase and three-phase lines.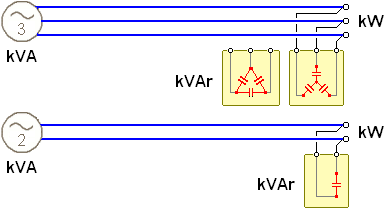 It calculates the reactive power to install to obtain the desired power factor (cosø) starting by the initial power factor (cosø).
Data input
Initial power factor (cosø):
Required power factor (cosø):
Working frequency
50 Hz
60 Hz
Mono-phase line.
One capacitor
Tri-phase line.
3 capacitors in star configuration
Tri-phase line.
3 capacitors in delta configuration

Results
PFC reactive power to install
kVAr
Initial apparent power
kVA
Final apparent power
kVA
Percentage of saving
%
Capacity of each capacitor to install
µF
RMS voltage at capacitors
V eff
Notes.
To obtain optimal results the PFC must be local (close to the machinery), in this way you will recover also the loss on the supply line.
Example of characterisic cosø to correct :
0.5 - 0.6 : fluorescent lamps (neon) complete with reactor.
0.3 : high pressure sodium lamps complete with reactor.
Example of correction a 32 W neon lamp :
cosø Initial = 0.6
cosø required = 0.98
kW = 0.032
V = 220
Hz = 50
mono-phase line.
Want to help us improve ?
Notices