Inductive reactance calculation.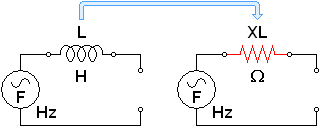 It calculates the inductive reactance of an inductor traversed by an alternating current.
The reactance XL of the inductor is the equivalent resistance in ohm at the working frequency, know the reactance need to dimensioning filters, attenuators and couplers of all kinds.
Data input

Results
Reactance (equivalent resistance)
XL
ohm
Want to help us improve ?
Notices
Apps for the resistances.
Parallel resistors.
Series resistors.
Capacitive reactance.
Inductive reactance.